September 23, 2019
Over the past 10 years ONA has provided operators with independent third-party oil rig mooring and related riser verification. During this time, ONA noticed a general lack of interest in the need and demand for independent third-party support in providing such verification services.
In marketing third party mooring verification services we need to be able to provide tangible value to energy companies. In most parts of the industry it is no longer acceptable to just rely on quantitative risk assessments for the company drilling man to tick the boxes on the corporate risk register. Uncontrolled excursions, mooring failures and incidents continue to happen but since the crash in oil price the amount of drilling and rig activity has decreased significantly and the commitment to managing mooring risks has waned and drifted.
As a reminder of the potential in field mooring risks it is worth re-visiting rig incidents such as the NOPSEMA reporting of the  2015 Atwood Osprey Mooring Incident:
"12 March 2015, the Atwood Osprey MODU experienced a mooring failure during Cyclone Olwyn and was blown three nautical miles off location in the vicinity of subsea and surface infrastructure and an environmentally sensitive shoreline. At the time, the rig had already been powered down and its workforce evacuated. The incident, however, still had the potential for catastrophic consequences to the facilities and infrastructure nearby, their workforce and the environment "
This incident led to APPEA and a group of industry stakeholders meeting and developing the MODU Mooring in Australian Tropical Waters Guideline. While a positive step, the guideline raised drilling mooring activities up to an equivalent level with that implemented by all float over and near platform mooring construction activities in the region.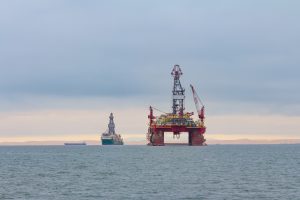 Managing risk, in the context of the guidelines, means considering all environment factors contributing to loads and anchor holding ability. It also establishes risk guidance for proximity to assets and failure considerations. Given the broad sweeping changes implied to moored rig operations at the time and the current state of the market, it would be interesting to see how implementation varies between the various operation stakeholders.
Historically our third-party verification of drilling rigs and semi-submersible moorings in the region has provided valuable insight into the potential issues and risks posed by MODU mooring activities for our clients.
Such work was invaluable to our clients and included:
Actual excursions far beyond acceptable with potential for jacket impact.
Cross tensioning impossible for design conditions.
MODU Mooring winches with inadequate capacity control pay out under load.
Pre-Laid moorings not justified despite obvious advantages.
Hydrodynamic Models out of date and superseded by rig changes.
Riser stroke and capacity not justified through engineering.
Potential for sequential failure of mooring lines due to overloading.
The relevant managers (our clients) were then able to demonstrate that risks were identified, managed and addressed in a proactive and tangible way. Through discussion with rig operators and mooring vendors our clients were able to effect change, reduce risk and provide significant value to company risk management endeavors.
In the current context, we are coming out of a significant downturn and rigs are returning to Australian waters. This is great.  Given many of the skills and lessons learnt from past incidents are fading from corporate memory, there is no greater need than now to lift the mooring risk management regime through independent mooring verification and consultation.