Location: Perth
ONA Consultants were awarded a significant DP technical consulting scope, supporting an innovative engineering company exploring the the benefits of DP assisted installation vessel manoeuvring in close proximity to marine assets. The work involved interfacing with Kongsberg as the various CFD interactions between vessels, thrusters and subsea structures were quantified in  developing a significant DP multibody allowing DP simulations in time domain. The ability to operate in a high risk DP mode under all environmental conditions were explored.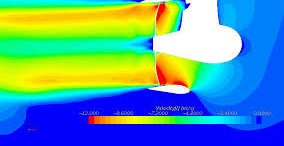 ONA were fundamental to successful engineered DP operations over the past 15 years for the Woodside Pluto, Woodside NRB and ENI Calm Buoy operations and were proud to again be involved in a similar role. DP systems can be susceptible to control system problems when under the influence of external forces and were previously limited to combination static and proprietary control system stability tests. In the case of DP vessels connected to barges and additional subsea bodies the mix becomes quite complicated and tools such as CFD become helpful in better understanding thruster and vessel to vessel interactions.
We are excited to have been involved with such cutting edge marine engineering and simulation techniques for our client.