August 10, 2021
Repair plans are generally of three different types:
Temporary Repair – Suitable repair for the vessel to reach permanent repair facilities or to continue operations, pending a permanent repair design, subject to approved operational restrictions/class or AMSA Accredited Hull Surveyor notations/restrictions that may be imposed.
Emergency Repair – Temporary repair for vessel to reach permanent repair facilities subject to class or AMSA Accredited Hull Surveyor notation/restrictions that maybe imposed.
Permanent Repair – Suitable repair expected to last to end of ship design life not less than 5 years without further attention.
Importantly, the need for a repair/rectification has already been established either through an incident, engineering investigation or client/operator repair direction after defect identification and examination. Occasionally a problem is identified and assessed based on risk it poses to further operation. The extent of the problem and associated risk is closely related and can only be refined after further assessment once slipped.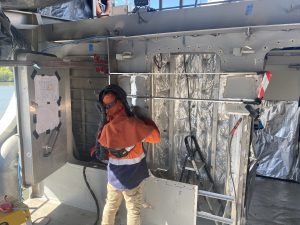 Once assessed and risk quantified, the remediation plan (including repair and basin trials) requires swift development of approved repair plans. In the performance-based boat environment the need for clear and concise repair plans is well understood from an operator perspective. Repairs must be executable with the minimum of fuss, on time and budget.
Repair plans can be developed by shipyards, naval design contractors, shipbuilders or by Commonwealth – with the correct technical input. An important consideration often overlooked is the need for the repair plans to meet normal commercial procurement requirements. If a shipbuilder has developed a plan, it must encompass all the associated business and engineering functions underpinning the plan including material control, quality, welding qualification etc.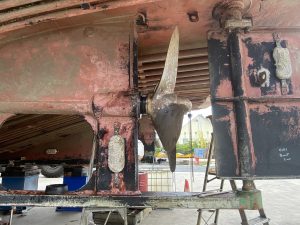 If the repair plan is for an external fabricator or contractor it needs to include all the contractor technical requirements including procurement, weld qualification, material certification, material handling, build specs and drawings. This information typically supports a Material Document Register (MDR) deliverable with sign off reflected in the Inspection Test Plan (ITP).
The ITP generated as part of the Repair Plan is the technical driver for assurance close out for contractor and owner/operator. It must be pre-approved to be an effective assurance and contractual tool to support payment milestones. All Objective Quality Evidence (OQE) required to support the scope should be clearly identified and provided before sign-off. Closing out the ITP successfully and on time can be significant impediment to successful delivery and payment milestones. It is an area in which ONA is well versed in managing to ensure successful outcomes.
In an ideal world for fleet wide build and support operations where failures become routine, repair plans should be an off the shelf item requiring a minimum of modification before roll out.
This can only be achieved when patrol boat builders incorporate the build warranty lessons and user feedback into the continuous cycle of improvement. Such ambitions are not readily achieved with reactive engineering and support.